Wedding Reception Ideas
Add some sweetness and sparkle to your special event with The Sweet Treat Company. Choose from the following range of services for weddings and events.  

Wedding Reception Ideas from The Sweet Treat Company
Here at The Sweet Treat Company we're full of good ideas, and we have an array of wedding reception ideas involving delicious sweets that could make your big day an even more memorable occasion.

If you're planning a wedding and you've got a sweet tooth, we can supply with you with all your favourite treats and we offer a variety of services for reception parties.
Wedding Sweet Shop Service
If you choose our Wedding Sweet Shop Service you can treat your guests to a fantastic selection of traditional candy that will take them down memory lane. You can create your own sweet shop at your reception and guests can pick their all time favourites from 40 traditional glass jars of classic confectionary.  
Candy Buffets
Our great wedding reception ideas include having a candy buffet after your main meal – or before if you like, it's your day! As well as being incredibly tasty your candy buffet will look fabulous as we work very hard to create a sweet display, worthy of Charlie and the Chocolate Factory.

Wedding Favours
You can also treat your guests with candy wedding favours that are hand crafted and presented in dainty favour boxes. Choose from 500 types of retro sweets and give them to friends and family to complete a magical and delectable day.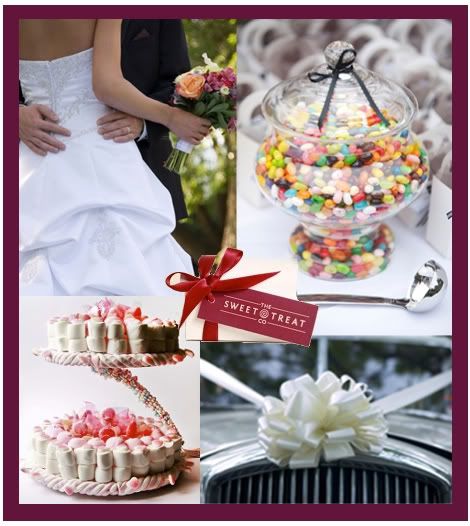 THE SWEET TREAT COMPANY'S EXPERIENCE 
The Sweet Treat Company has worked with some of the most prestigious hotels in the South East and has a wide range of clients from premiership football clubs to Channel Four. We are truly dedicated to making your event sensational, providing you with first class customer service, a unique range of sweet products and a true passion for excellence. Whether we supply a Candy Buffet, our Events Sweet Shop Service, Wedding Favours or Wedding Sweets many of our delighted customers come back to us time after time. To see how we can make your event super sweet email yummy@sweettreatco.co.uk or call us on 01962 808343.
 USEFUL INFORMATION 

 Our Tradition British Sweet Shop

 Customer Testimonies'

Weddings and Parties Gallery

Sweet Cakes

 The Sweet Treat Homepage

Super Sweet News