WEDDINGS AND PARTIES SWEET SHOP SERVICE
Make your wedding or party truly sensational with The Sweet Treat Company's Event Sweet Shop Service! Join us as we take you and your guests on a journey down memory lane with large glass jars filled with the finest traditional sweets and retro treats accompanied by old fashioned scales and beautiful bunting.
CREATING YOUR DREAM SWEET SHOP
The Sweet Treat Company will help you every step of the way in creating your dream sweet shop. Start by choosing 40 of your all time favourite sweets from our sweetie menu of over 500 different varieties. Then select a theme which suits your event, we know how much the little things matter, so we are happy to provide extra special touches to suit your colour scheme, theme or venue.
Finally, on the day let your guests enjoy two hours of unlimited service from our trained candy connoisseurs who serve each guest individually their favourite sweets from your very own sweet shop!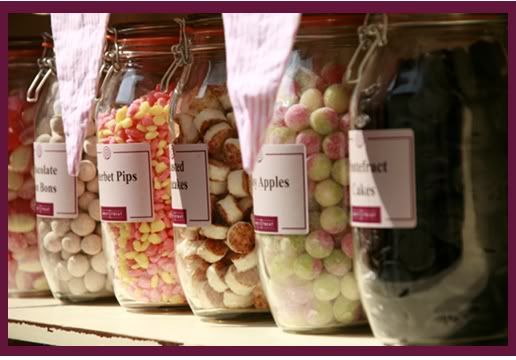 SWEET SHOP SERVICE SPECIFICATIONS

Choice of 40 types of sweets from our sweetie menu of over 500 sweet varieties prior to the event.

  40 Traditional glass jars filled with sweets

  Unlimited sweet shop service for your guests for the specified service period (guests are served 100g per visit)

  Themed decorative items such as bunting and old-fashioned weighing scales
 Dedicated serving staff (staffing depends upon number of guests)

 Striped sweet bags (these can be ordered to suit your colour scheme)

 Set up and break down immediately before and after the 2 hour period. Please request a quote for an earlier or later breakdown.

 Display furniture including old-fashioned dresser and serving counter

 Provision of all the necessary paperwork and insurances
If this is not quite what you were looking for, we also offer
Candy Buffets
.
Need more information about our Sweet Shop Service or would like to check availability or place a booking? Please contact 
yummy@sweettreatco.co.uk
or call us on 01962 808343. Please also read our Sweet Shop
terms of service 
for more information.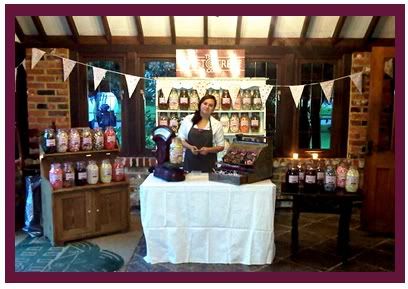 WHY CHOOSE THE SWEET TREAT COMPANY?
The Sweet Treat Company is your perfect event partner! We take the stress away from planning your event, getting to know the venue before we arrive, setting up early in a spot of your choice and delivering exceptional customer service to your guests from start to finish. We supply only the highest quality traditional sweets and retro candy and with over 500 sweet varieties available we have something for everyone! If you would like to find out more about us, click here to view a video of our traditional sweet shop or click here to view our range of traditional sweets, fudges, chocolates and lollipops.